Water proof / Breathable textile
Water proof / Breathable textile made from recycled polyester.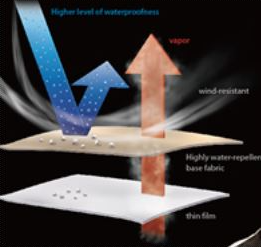 The highly functional material ECO STORM™ is a waterproof/breathable material made from recycled fibers. While using recycled fibers, the material meets a high standard of waterproofing and breathability. ECO STORM™ represents an uncompromising combination of comfort and environmental performance.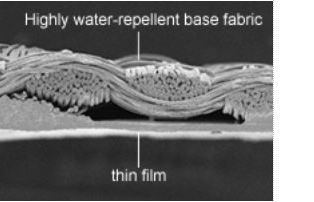 The highly water-repellent base fabric combined with a highly functional waterproof/breathable film that won't get wet and traps little moisture. This newly developed 100% polyester waterproof/breathable film is thin and highly durable. With its high level of waterproof/breathable functionality, ECO STORM™ gives comfortable and durable protection in any weather conditions.
03

Functional Performance

○Lightweight, thin, soft, and highly durable. The thin, high performance polyester film creates this extremely durable/waterproof/breathable material. ○The highly water-repellent woven/knit base fabric is made from microfibers and has various types including stretching .
ECO STORM™ is friendly to the environment in both its production and disposal. ・Uses recycled fibers. ・Solvents are not used in the production of the film ・Few toxic gases are released when burned