Sustainability
Labor Safety and Health
The Environment, Safety and Health (ESH)
Policies
Initiatives (Targets)
Environment (E)

Reduce industrial waste

Reduce emissions of chemical substances

Promote the conservation of energy

Industrial waste: Reduce levels year on year

CO2 emissions: Reduce levels year on year

Emissions of chemical substances: Reduce levels year on year

Safety (S)

Achieve zero work-related accidents

Promote measures for responding to large-scale disasters in cooperation with the Teijin Group

Keep the rate of lost-worktime injuries* at 0.25 or less

Promote prevention measures from the perspectives of management and human error
Strengthen measures to prevent injuries from rotating equipment

Review safety measures related to awareness of large-scale earthquakes and deploy across Group companies

Health (H)

Promote mental and physical health

Health checks: Enhance awareness of important findings and initiatives to prevent lifestyle diseases

Conduct activities to promote awareness of mental health (such as level-based internal education and training)
*

Rate of lost-worktime injuries: The frequency of work-related accidents, expressed as the number of people experiencing lost-worktime injuries per 1 million working hours
Policies, Targets and Results Related to the Environment (E)
Preserving the global environment is an important international topic from the perspective of sustainable development, as well as an important priority for companies. The Teijin Frontier Group strives to preserve the global environment in accordance with the Teijin Group Global Environmental Charter and the Teijin Group Global Environmental Activity Goals.
At our own factories and those of Group companies, we carry out quality control as a manufacturer, as well as establishing and operating environment, disaster prevention and safety, and health (ESH) management systems. We also ask that partner factories operate management systems to a similar level. As a result of our efforts, our environmental conservation and accident-prevention measures are regarded highly by public institutions in various regions.
In particular, Group companies Nantong Teijin and Teijin Automotive Fabrics Finishing (Jiangsu Province, China) are highly regarded for their contribution to China's corporate environment. Accordingly, the companies have been certified as "green companies" (the highest ranking) by the Environmental Protection Department of Jiangsu.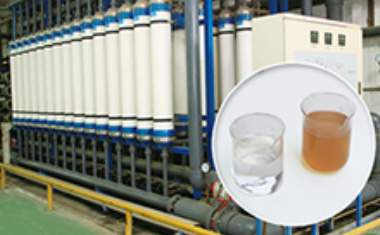 Working to Conserve the Environment in Local Communities
At our factories, we strive to reduce emissions of chemical and other substances to keep from polluting the environment in local communities.
For example, in China Nantong Teijin employs advanced processes such as using reverse osmosis membranes to process wastewater.
The photo on the right shows wastewater before treatment, while the left-hand photo shows treated wastewater.
Policies, Targets and Results Related to Safety (S)
To eliminate occupational accidents, Teijin Frontier shares its experiences in the "5S" initiative (five Japanese words [seiri, seiton, seisou, seiketsu and shitsuke], which correspond to organization, tidiness, cleaning, hygiene and discipline), and the "Hiyari-Hatto" (meaning close call or near miss) initiative. In addition, we conduct safety patrols and other prevention efforts to stamp out all unsafe work practices and conditions.
Since 2013, the entire Teijin Frontier Group has stepped up efforts to prevent injuries from rotating equipment. To prevent accidents that involve people becoming entangled in equipment, we conduct safety patrols at manufacturing sites and keep all parties informed about prohibited work activities.
Policies and Awareness Activities Related to Health (H)
To provide employees with a healthy working environment, we are working to reduce extensive overtime hours and undertaking improvements to enhance mental health and addressing lifestyle diseases.
The Teijin Group has introduced a "heart hotline" for employees that utilizes institutions from the external Employee Assistance Program (EAP) to perform consultation and counseling by telephone and email. Each year, the Teijin Group conducts diagnosis to measure the "iki-iki" (cheerfulness) level of individuals and workplaces as a statutory stress check. Similarly, the Teijin Frontier Group encourages all employees to be aware of their own stress levels. We also promote improvement activities aimed at creating an amenable working environment.
Social Contribution Activities