Sustainability
CSR Procurement
Teijin Frontier brings stability to its operations and enhances its corporate value by actively engaging in initiatives as a company that promotes responsible conduct in activities that affect social and environmental problems.
As the leading company of Teijin Limited's Fibers & Products Converting Group, Teijin Frontier has formulated a CSR Procurement Basic Policy and corresponding standards based on the corporate philosophy and Corporate Code of Conduct of the Teijin Group, and promotes CSR procurement accordingly.
To contribute to the creation of a sustainable society, Teijin Frontier promotes CSR procurement while cooperating and collaborating with business partners as a member of civil society.
CSR Procurement Basic Policy
1.

Compliance with the law

2.

Fair and equitable transactions

3.

Appropriate selection of business partners

4.

Blocking of relationships with antisocial forces

5.

Harmonious and mutually prosperous relationship with society
Procurement Policy Regarding Human Rights, Labor, and Environment
1.

Respect for human rights

2.

Securing of occupational health and safety

3.

Conservation of the environment
Following the launch of the CSR Procurement Strategy Project in 2011 and the establishment of the CSR Procurement Strategy Office, we set up the CSR Procurement Strategy Section inside the Environment, Safety and Quality Assurance Office in April 2017.
By cooperating with the Compliance Risk Management (CRM) and Quality Assurance Section within the same Office, we aim to share information with suppliers and promote CSR procurement activities.

We repeat the PDCA cycle in supply chain management, and when detecting a problem, we work out improvement measures together with suppliers, and provide ongoing support.
Supply chain management PDCA cycle

CSR Procurement Promotion Activities
1.

Clarification of requirements to (and raising of corresponding awareness among) suppliers

Formulation of CSR Procurement Standards, distribution, and explanation to suppliers

2.

Gauging of supplier conditions and provision of support

Implementation of self-assessment questionnaires (SAQ) and fact-finding surveys, and follow-up

3.

Education of, and provision of information to, stakeholders

Organization of internal training and seminars
Organization of external training and seminars

4.

Response to social trends

Adherence to international norms and participation in international initiatives
Acquisition of international standards and certifications
CSR Procurement Standards
Teijin Frontier has formulated CSR Procurement Standards (guidelines) for suppliers, and established a basic policy and standards.
The CSR Procurement Standards call on companies and various countries to improve human rights protections and labor environments, and comply with international guidelines such as the United Nations' Guiding Principles on Business and Human Rights and with laws and regulations of various countries.
Prohibit discrimination

Prohibit forced labor
Prohibit child labor

Protect juvenile workers
Set working hours and provision of holidays

Respect freedom of association and the right to collective bargaining

Prohibit disciplinary practices

Show consideration for health and safety

Determine environmental requirements

Prevent corruption and comply with ethical business practices
We distribute our CSR Procurement Standards to Japanese and overseas suppliers selected based on company standards, and strive to have our suppliers understand and cooperate with Teijin Frontier's CSR Procurement Basic Policy and standards.
About CSR Procurement Standards
Those who have an ID and password for viewing can view and download the CSR Procurement Standards by clicking the button below.
About browsing ID and password
If you do not have an ID and password for viewing, please apply using the from below.
Self-Assessment Questionnaires (SAQ)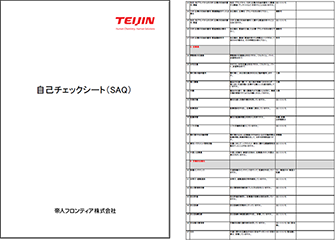 Our suppliers are asked to complete self-assessment questionnaires (SAQ), which allow us to gauge supplier conditions in terms of labor, safety and health, environment, and quality. On this basis, we prepare plans to implement fact-finding surveys (audits).
Implementation of Fact-Finding surveys (Audits)
Based on the basic policy and standards presented in the CSR Procurement Standards, we conduct fact-finding surveys to gauge work and labor safety.

On-site survey (prior to improvements)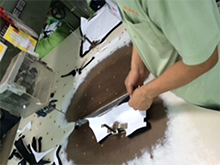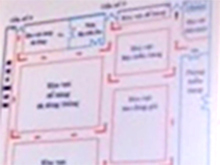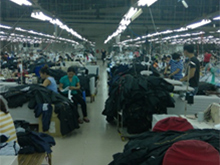 On-site survey (following improvements)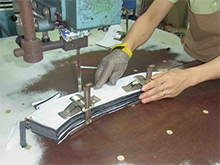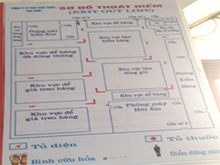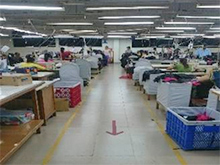 Organization of Internal Training and Seminars
To ensure internal dissemination of CSR procurement, we conduct employee training sessions at Japanese and overseas sites, in which recent topics related to CSR are discussed.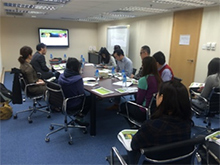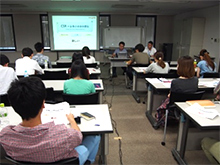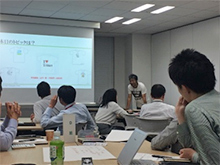 Organization of External Training and Seminars
We conduct seminars to raise awareness of CSR procurement with the aim of ensuring thorough compliance with local laws and protection of human rights in overseas production areas that have attracted a large number of Japanese companies as manufacturing hubs for apparel products.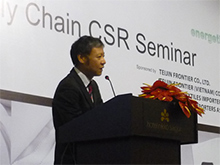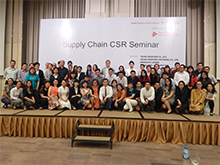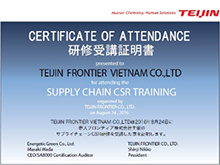 Year
Month
Location
2014
December
Vietnam
2015
June、November
Vietnam
2016
August
Vietnam
2017
August
Vietnam
November
Myanmar
2018
August
Vietnam
October
Chinese(Shanghai)
2019
June
Japan(Hokuriku)
July
Japan(Tokyo)
August
Japan(Osaka)
September
Vietnam
October
Japan(Nagoya)
October
Chinese(Qingdao)
2020
January
Japan(Osaka)
September
Japan(Online)
October
Chinese(Online)
December
Vietnam(Online)
2021
January
Japan(Online)
March
Indonesia(Online)
Adherence to International Norms and Participation in International Initiatives
To assume responsibility in resolving issues facing the global community, the Teijin Group believes it is necessary to not only comply with the laws and regulations of various countries, but also observe global standards that are internationally recognized, and it accordingly participates in the following international initiatives.
United Nations Global Compact
| | |
| --- | --- |
| Description | An initiative to resolve global challenges that was officially launched at the United Nations Headquarters in 2000. |
| Activities by Teijin Frontier | We are working to discuss issues faced in CSR procurement, and produce outputs that aim to resolve such issues. |
SAC (Sustainable Apparel Coalition)
| | |
| --- | --- |
| Founding objective | Reduce the environmental and social impact of apparel/footwear products and home textile. |
| Member companies | Adidas, BURBERRY, Disney, FAST RETAILING, GAP, H&M, INDITEX, NEW BALANCE, NIKE, Patagonia, PUMA, and others |
| Activities by Teijin Frontier | We participate in meetings that bring together all SAC members. |
Acquisition of International Standards and Certifications
Teijin Frontier Group companies actively promote sustainable initiatives, and have acquired certifications such as ISO 9001 and ISO 14001.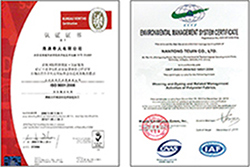 Main group companies that have acquired the ISO 9001/ISO 14001 certifications for their plants

| | |
| --- | --- |
| FRONTIER TEX LTD. | ISO9001、ISO14001 |
| NANTONG TEIJIN CO., LTD. | ISO9001、ISO14001 |
| THAI NAMSIRI INTERTEX CO., LTD. | ISO9001、ISO14001 |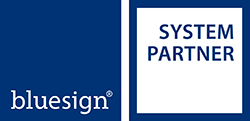 BLUESIGN is a system that provides safer and more sustainable environments for people to work in and everyone to live in.
Teijin Frontier supports the bluesign policy and has been a system partner since 2015.
Social Contribution Activities