Compliance and Risk Management
Sustainability
Social and community contribution activities
Holding the Book Dream Project, a Volunteer Activity to Give Away Picture Books
We have set up "book stations" within Teijin Frontier offices, where employees can donate used books, CDs, DVDs and games that are lying unused in their workplaces and homes, which are then converted into cash at Bookoff Online Corporation.
Half the funds raised in this manner are used to purchase picture books. Employee volunteers translate the text into Indonesian, using stickers, and the books are donated to libraries in Indonesia.
The remaining half of the money is contributed to the Shanti Volunteer Association, which conducts library-related activities for children in Thailand.
These activities are one aspect of social contributions we conduct together with the Teijin Group.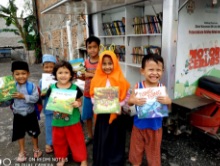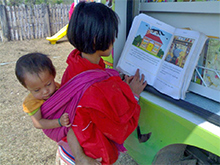 Social Contribution Activities